When I need to see where my teams are going to be seeded in the NCAA Tourney, I turn to five Bracketologists. I turn to Andy Glockner of CNNSI, then to Joe Lunardi of ESPN, then I hop over to Jerry Palm of CBS, and then over to warrennolan.com. But after they all piss me off, I turn to the most accurate bracket predictor East of Cincinnati, and inside the 275 loop. They call him Dr. Brackets. His accuracy is uncanny, legend has it he picked every team correct one year when he was in college. Nobody remembers that, but as I recall, a few things are forgotten in college. Without further ado, here is the current bracket brought to you by Dr. Brackets.
(Note: This is how Dr. Brackets believes the tourney would look if the season ended on February 18th.)
(Note II: Teams in all caps received conference automatic bid.)
(Note II: I've added some comments on some of these picks.)
1 SEEDS
INDIANA, MIAMI, FLORIDA, Duke
Does Duke warrant a one seed? I start to say no, but then I look at the seeds below them, and I can't say that anyone else deserves it.
2 SEEDS
Syracuse, Michigan, Michigan State, KANSAS
If Louisville wins the Big East, they'll probably get a two seed instead of Syracuse, or instead of either Michigan or Michigan State, depending on which one loses early in the conference tourney.
3 SEEDS
GONZAGA, Georgetown, LOUISVILLE, ARIZONA
Arizona just isn't that good, but their record makes them look like they deserve this spot, so ok, they can have it. Gonzaga's win at St. Mary's was huge, didn't see that coming.
4 SEEDS
Kansas State, Ohio State, NEW MEXICO, Marquette
If you really look at the Buckeyes resume, they don't deserve a 4 seed at all.
5 SEEDS
Butler, Oregon, Wisconsin, Oklahoma State
Butler is a 5 now, but they will lose a few more A10 games and they won't be here when the real tourney starts. Wisconsin is on the rise.
6 SEEDS
Cincinnati, Iowa State, North Carolina State, Notre Dame
Same with Cincy, they should be around a 9 seed. What have you done for me lately? This whole line of teams just makes me queasy, they all scream mediocre.
7 SEEDS
Colorado State, VIRGINIA COMMONWEALTH, MEMPHIS, Pittsburgh
Memphis and Colorado State are scorching hot right now. VCU is about to drop also, their A10 schedule the rest of the way is brutal.
8 SEEDS
CREIGHTON, St. Louis, Oklahoma, Minnesota
Creighton is on a downward spiral, whereas the Billikens are on fire. Minnesota is a bust, they will be lucky to make the tourney when it's all said and done.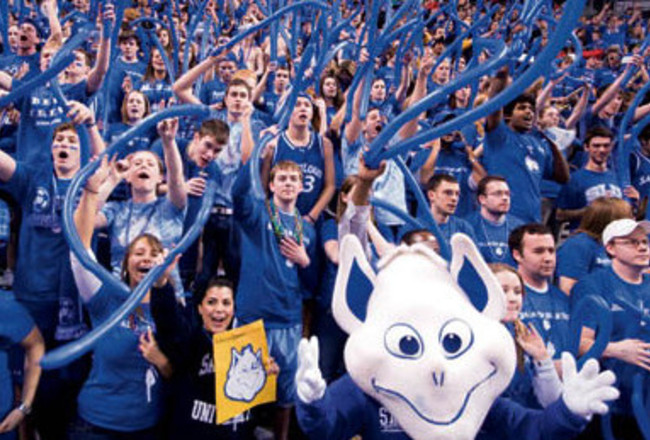 9 SEEDS
Unlv, Illinois, San Diego State, Missouri
Can't believe Illinois is on here, they make me sick. Mizzou will also be lucky to get in when it is all said and done.
10 SEEDS
North Carolina, Colorado, Baylor, Wichita State
Wow, this line is an even bigger group of underachievers. Either this tourney is going to be awesome this year or it's going to be pathetic. Such a lack of actual good basketball teams.
11 SEEDS
Ucla, Alabama, LaSalle, Mississippi
LaSalle is a good team, they deserve to be in. Alabama? They deserve a bid? I highly doubt it.
12 SEEDS
MIDDLE TENNESSEE STATE, St. Mary's, Temple, AKRON, Virginia, Air Force
You have my Owls in the tourney? I would agree, but they are on really really thin ice.
13 SEEDS
LOUISIANA TECH, VALPARAISO, DAVIDSON, BELMONT
La Tech having a great year. No one wants to play Davidson or Belmont. Either of those teams plays OSU and the Bucks are going home.
14 SEEDS
MONTANA, HARVARD, NORTHEASTERN, BUCKNELL
Montana is tough, but they may not get past Weber.
15 SEEDS
SOUTH DAKOTA STATE, LONG BEACH STATE, STEPHEN F AUSTIN, NORFOLK STATE
Some good teams here. With the mediocrity this year, I say a 15 seed definitely gets a win in the tourney.
16 SEEDS
MERCER, HIGH POINT, STONY BROOK, ROBERT MORRIS, NIAGARA, SOUTHERN
Good luck guys. You have a 0.0% chance of winning against the one seed.
TWELVE BUBBLE TEAMS (One word or sentence on each.)
Kentucky - Toast
Arizona State - 5-5 in last ten.
Arkansas - No chance when committee looks at their road record.
Maryland - No way, false hope from that Duke win.
Villanova - Weak team, good resume
Iowa - Ridiculously weak out of conference sked.
California - Crabbe is a stud.
St. Johns - They don't deserve to be on the bubble.
Brigham Young - 0 Top 50 RPI wins
Southern Mississippi - RPI of 35 looks decent
Charlotte - Nice road win over Butler
Boise State - 3-6 in last 9, won't cut it.
What does everyone think? Any glaring ommissions? Any total misseedings? Any funny jokes you want to tryout in front of hundreds of readers? Less than four weeks until Selection Sunday. Stay tuned to the blog daily. We'll have Dead or Alive posts, and conference tournament previews and reviews. Thanks for reading.
Curt