With it only being August, the 2013-14 Temple Owls basketball season is still three months away. I could write a breakdown of what we are going to see in the upcoming season, but there is still plenty of time for that. This young roster is leaving soon for a trip to Europe that can only help the development. It will be interesting to see the kind of stories that come from this excursion. So for this post, I say we dig into some Owls history. I've been a fan of this team since 1992 when I was 11 years old. I have seen a lot of players come through this school, some were unforgettable, some I wish I could forget. I chose my favorite seven in each of six categories. These are just my opinions on who I thought was the best in each category, along with my favorite players of my time as a fan. So without further ado, here is a trip down memory lane.
(Players are listed in chronological order.)
SHOOTERS
Quincy Wadley
Lynn Greer
Alex Wesby
Brian Polk
Dionte Christmas
Juan Fernandez
Jake O'Brien
Three of these guys were part of one of my favorite Temple teams, the 2000-2001 squad. Wadley, Greer, and Wesby were unstoppable when they were hot. And boy did they get hot in the tourney. Had a realistic shot of knocking off Michigan State to get to the Final Four, just fell a little short. Brian Polk was a heck of a shooter. Only got to play two years, but when he spotted up in the corner, I always thought it was going in. Do I need to even say anything about Christmas? Sometimes I don't even think he was looking at the basket when he let it fly. Juan had his moments, but when he had a good look, he was money. Jake O'Buckets, pure shooter, only wish he would have been an Owl for his whole career. My favorite shooter in this time frame? Have to go with Greer. His step back was about as pure a shot I have seen in my lifetime.
SCORERS
Aaron McKie
Rasheed Brokenborough
Lynn Greer
David Hawkins
Dionte Christmas
Ramone Moore
Khalif Wyatt
Brokenborough was one of my favorite players growing up. He had the ugliest shot, it was literally "broken", but he could score. His first couple of years he was counted on to put up points, and he did it pretty well. Lynn could shoot the three, shoot mid range, get to the rack, and was automatic from the line. Hawkins was fun to watch, but I don't know how good he really was. He was the only player on those teams that could score, so he did what he could. He shot almost every time down the floor, but he had to, so it was good for the team. Dionte put up over 2,000 points in basically three years, he never saw a shot he didn't like. We all know what Wyatt could do. How many games did he just take over last year? Too many to count. He'll find a gig in the NBA just because he knows how to put the ball in the basket. My favorite scorer in this time frame? I have to go with Wyatt. I never felt like the Owls were totally out of the game as long as Wyatt was on the floor, and most of the time, he came through.
SOARERS
Eddie Jones
Lynard Stewart
Mardy Collins
Dustin Salisbery
Mark Tyndale
Semaj Inge
Rhalir Jefferson
Temple isn't known for having the best athletes that can get to the rim and throw the ball down. This was a much harder category than you would think. I just had to think of the guys that have made me jump out of my chair at one time or another due to a slam. These guys were all high risers. Eddie had some of the longest arms I've ever seen on a basketball player. Collins once threw one down against Miami that I think I rewound 30 times. Tyndale had a few that had the Liacouras Center rocking. I remember Inge going over a couple dudes during a game at Duquesne his senior year. My favorite dunker during that era? Not even a question, Eddie Jones.
LEADERS
Rick Brunson
Pepe Sanchez
Lynn Greer
Mardy Collins
Mark Tyndale
Ryan Brooks
Scootie Randall
All of these guys were leaders of their respective classes and teams. And yes, it's just a coincidence that the first three were all lefty point guards, ha. It's not a coincidence however, that each of these guys was the best perimeter defender on the team. These guys not only played offense, but they did the dirty work on the defensive end to help their team. Hell, Pepe was the A10 Player of the Year and he only took about 5 shots a game. My favorite leader during this era? Pepe for sure, he was the leader on the best team of that era, the 1999-200 squad. It just always looked like Pepe was in control of the whole entire court at all times.
GLASS CLEANERS
Marc Jackson
Lamont Barnes
Kevin Lyde
Mark Tyndale
Lavoy Allen
Michael Eric
Rhalir Jefferson
Rebounding isn't a very fun stat, but I had to find a category to mention some of these guys. I was always a huge fan of Lamont Barnes. He always played under control and was in the right place at the right time. Lyde was one of the biggest dudes out there, you just didn't think so because Rollerson was on the court at the same time. Lavoy Allen was probably the best rebounder I have seen in a Temple jersey. He could snatch a ball out of the air like he was wearing stick'em. My favorite rebounder of the era? Lavoy Allen, no doubt. I sometimes found myself just watching him work down low without even caring where the ball was at the time.
FAVORITES
(Not chronological order for this one)
7. Mardy Collins
I will always wonder what Collins could have done if he had better players around him. He could shoot, he could get to the rim, he could rebound, and he could D it up. Every team they played keyed on him the whole game. I'm glad he made it to the NBA because he definitely had the game. Where would the Owls have been during those down years if it wasn't for him? I don't even want to know.
6. Pepe Sanchez
Too bad someone already had the Glove as a nickname because if it was available, they would have given it to Pepe. Nobody could have been a better player at the top of the Temple zone. He made the guards on the opposing teams so uncomfortable. He couldn't shoot but he was an unbelievable passer. One of my favorite memories is when the Owls came back from a ten point deficit against Michigan State in the last minute. Pepe made two free throws with no time on the clock to win and he just fell backwards when the last one swished threw the net.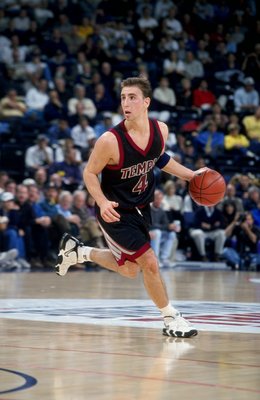 5. Lavoy Allen
I remember the summer before Lavoy's first year. I wanted to find some information about him, so I went to myspace and found his account. Yeah, you can laugh, I am. Anyway, he had a quote that said something like, if it wasn't for the rule, I'd be going to the league. I thought, ok bud, you better show me something. And it took about a month for me to think, this dude's the real deal. He was never out of control, he always got better as a shooter. His rebounding was immaculate. He could block shots. When Lavoy held up three fingers when the Owls won their third straight A10 Tourney Championship I thought to myself, Boy am I glad he chose Temple.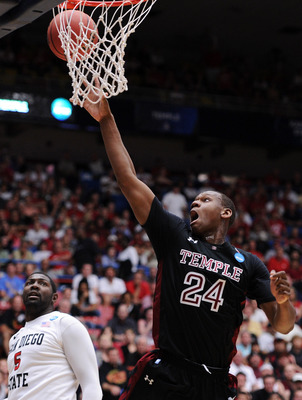 4. Khalif Wyatt
Like I mentioned before, I never once thought the Owls were out of a game as long as Khalif Wyatt was on the floor. He pissed me off a lot at times, I couldn't stand the trying to draw fouls on wide open three point attempts and such. But as much as he irked me, I respected him so much because of how hard he played. I also respected him because he always got better. You could tell he worked on it. Clutch doesn't even begin to describe his game. I hope I get to watch him play in the NBA someday.
3. Dionte Christmas
To me, Dionte Christmas will always be remembered as the guy that brought the Temple Owls back from the lowest of lows. His freshman year was the lowest this school has been since I knew what Temple University was. The energy he brought back to the team and the school cannot be measured. When he got hot, he was scorching. The Tennessee game is etched in my memory forever. But, the game that I will remember the most is the A10 Championship game against St. Joe's. When he got hot in the second half of that game, I was just thanking God that the Owls were back, and I will always credit Dionte for that.
2. Lynn Greer
Lynn Greer had it all, he could do anything on the court. I remember telling my dad and his friends, just watch the Owls, and watch Lynn Greer. They didn't care about Temple, but I had them watching Greer because he was so good. One of my favorite memories of his was his freshman year when he drained five threes in the first half at #1 Cincinnati. He broke his orbital bone later that year. That was bad, but if it wouldn't have happened he wouldn't have been around for a fifth year. That fifth year was the year they made the run to the Elite 8. The Owls have had some big time scorers, but no one had the game to put up 47 at Wisconsin like Lynn did.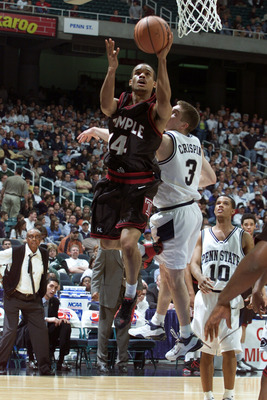 1. Eddie Jones
Eddie Jones is the reason I am a Temple Owls fan. He was a top notch defender, a good shooter, a fantastic dunker, and just generally seemed like a good dude and teammate. I have two of his Lakers jerseys, #6 and #25. When you are in middle school and high school, you always have a favorite player and you try to emulate them. Most were emulating Jordan, Iverson, Kemp, etc. For me, it was Eddie Jones. When I played high school basketball, the crowd actually chanted "Eddie, Eddie, Eddie" when I made a three, ha. He's not only my favorite Owl, but probably my favorite basketball player of all time.
So there it is, just a little trot down memory lane for me and probably some of you. Let me know who some of your favorite Owls were, would love to hear it. Hope you all enjoyed the post. Thanks for reading.
Curt
Follow me on twitter @CurtOU