Another day in the books, another day closer to Selection Sunday. Seven tourney games were on the schedule on Tuesday, which means we have seven more to add to the Division I Cemetary. But how we got there was exactly what you would expect during March Madness. Two of the seven games went to overtime, while another was decided on the last possession. A team with a 7-24 record was victorious and stayed on life support for at least one more game. But no matter the results, seven had to go, which brings us to a total of 50 teams with no chance at the title, leaving 297 still in the hunt. Below is who we lost.
DEAD:
Big South - PRESBYTERIAN, RADFORD, UNC-ASHEVILLE, COASTAL CAROLINA
Horizon - LOYOLA (IL), CLEVELAND STATE, MILWAUKEE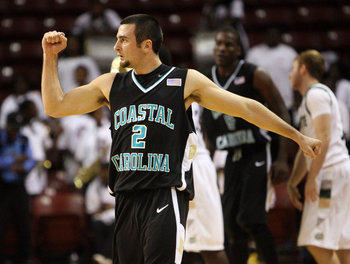 STANDINGS:
TEAMS 347
DEAD 50
AUTO 0
LOCK 0
ZOMBIE 0
ALIVE 297
Five more conferences start their tourneys on Wednesday. Here are the conferences and my picks to win each.
Atlantic Sun - Top seeded Mercer.
Patriot - Bucknell is the class of this conference, I'll take them. Lehigh should have been there, but sometimes injuires happen, too bad.
Northeast - The four seed LIU-Brooklyn is my pick. Watched them play earlier this year, they have some ballers.
Ohio Valley - This is Belmont's tourney, only have to win two games, and in their home city. Plus, with my Owls being on the bubble, I don't need someone else stealing a bid.
West Coast - Does someone step up and beat Gonzaga? I'm going to say the Gaels of St. Mary's do it.
For my Owls followers and readers, I think they finally get that comfortable win we have been waiting for. I'm guessing a 78-62 victory at Fordham. But like many have said, it's funny that this game at Fordham scares us more than the home game against VCU. Never seen a team play down to their competition as much as this Owls team.
What are your picks to win these conference tourneys? Have a score for the Temple game? Do you remember when you bought a 20 ounce Mountain Dew and you got a school name on the cap? Those were the days. Til next time, thanks for reading.
Curt